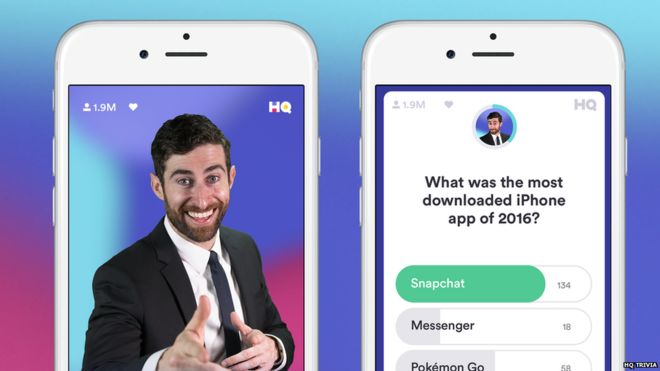 How do you win thousands of pounds straight from your phone for free? For many, the answer is the popular quiz show app HQ Trivia.
The game came to the UK in early 2018 after being released in the US the year before.
The free app live-streams 15-minute quiz shows throughout the week to millions of viewers, with a pot of money available to split between winners.
People have taken home anything from £1.63 here in the UK to $50,000 (£36,000) in the US. The biggest UK winner so far received £8,000.
The game recently gave away its biggest jackpot – $300,000 (£214,000) – to 83 winners, with Dwayne 'The Rock' Johnson as a guest presenter.
Answer 12 trivia-based questions correctly by tapping the answers on your phone and (a share of) the money is yours.
But the question is, how has it grown from being a fairly unknown start-up to giving away thousands of pounds with celebrity guest presenters?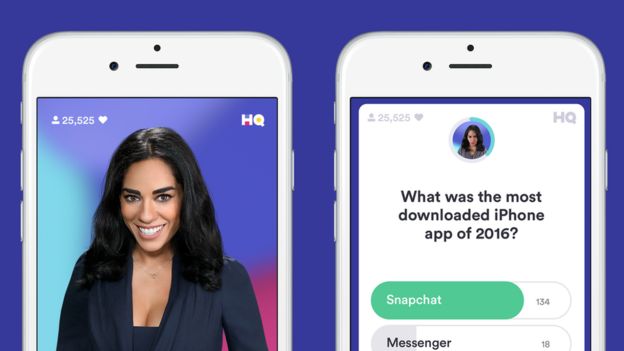 Sharon Carpenter, the presenter for the UK edition of the app, says the live element is a key reason.
"First of all you've got this live component where anything can happen," Sharon told Newsbeat.
"It's the same reason people love live TV, but this you can take wherever you are.
"You never know how the game is going to end up – and I think because of that there is this element of the fear of missing out."
Sharon, who also reports for The Wendy Williams Show in the US, thinks HQ Trivia is "the future of television – it's the future of broadcasting".
The quiz show has been guest-hosted by some big names over the past year, from the likes of TV host Jimmy Kimmel to Bert from Sesame Street.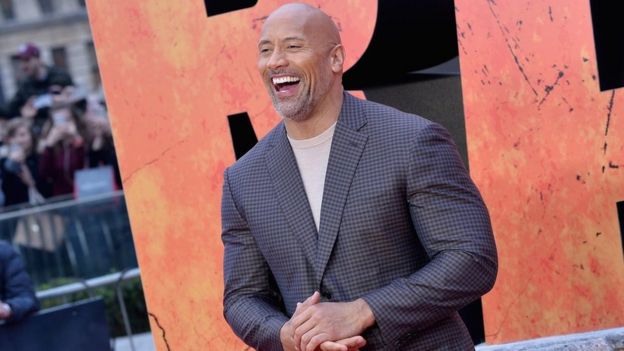 The app was created by the co-founders of now-defunct video sharing app Vine, Colin Kroll and Rus Yusupov.
"We've never stopped experimenting with video technology," Rus told Newsbeat.
"With HQ we wanted to blend and break out of these moulds of traditional television.
"We thought if you could up the levels of production and broadcast directly to people's phones – and make that content more interactive and more social – that we could actually turn this into something we could use daily."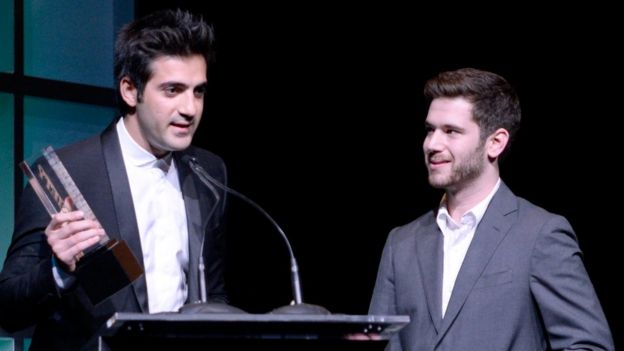 Even though HQ Trivia gives away money, it is free to play and does not run traditional ads.
It has given away prizes in partnership with companies such as Nike and Warner Bros though, which could be a potential revenue generator in future.
HQ is funded by investors and by its parent company, Intermedia Labs.
Earlier this year the hashtag #DeleteHQ surfaced on Twitter because some players were not happy with one of the app's investors.
Founders Fund, a firm founded by Peter Thiel that has also made investments to the likes of Spotify and Facebook, was the reason.
Peter Thiel is the co-founder of PayPal and donated $1.25 million (£891,000) to Donald Trump's 2016 presidential campaign.
'I would say that I'm addicted'
To some, playing HQ can be a pretty big deal.
Scott Menke says he has played nearly every single game since October 2017.
He claims he's earned $12,300 (£8,613) by continuously playing the game.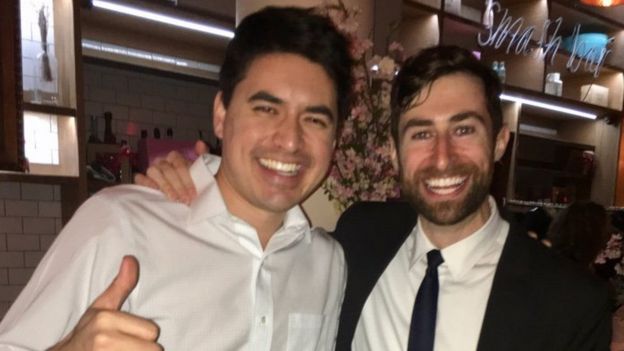 "I honestly would say that I'm addicted, to a degree, to the game," Scott says.
"It was evidenced by my total inability to quit. I said I would quit for three weeks and I lasted a day."
For others, it's the smaller victories that count.
First-time winners Tom and Claire won £110 in a game and their reaction says it all.
"It happened that we knew the final question and we practically screamed the house down," Tom told Newsbeat.
"We must have received a dozen messages from our friends seeing our name on the winners board."
Claire added: "We're going to Vegas in September so it's gone in the holiday bank account."
'This won't be the be-all and end-all'
The app is the "start of a genre", according to tech vlogger Arun Maini (known on YouTube as Mrwhosetheboss).
But he's not convinced it will still be the leader in years to come.
"It's got the potential to extend its lifetime a little bit.
"Then again, I think there will be a lot of competing apps with a similar structure very soon.
"I think we'll see more games with a similar format – but I don't think this will be the be-all and end-all."